News
Uncategorized
How On Demand Grocery Delivery Apps In Covid19 Has Changed How People Used To Shop
As WHO already advised, learn to live with CoronaVirus. There is no end to the situation and we cannot let that affect our lives. Cities across the globe are going under lockdown to control the spread of the coronavirus. To ease off the common difficulty of the people facing while shopping for the daily essentials is grocery shopping. But, on-demand grocery delivery apps are stepping in, helping people to access their daily essential needs without leaving home.
A few months back, stepping out of the house to buy groceries was a nightmare. All thanks to these on-demand delivery apps who made it easy and convenient for the consumer to buy their groceries without a hassle.
What Are On-Demand Delivery Apps?
If you have ordered food online or ordered groceries from the store to get it delivered at home, knowingly or unknowingly you have been using on-demand delivery apps. The app acts as a bridge between the user and the store owners. On-demand delivery apps are those services that fulfill your "on-demand" immediately like "getting a pizza". The apps are listed with innumerable categories under which a wide range of retailers/wholesalers/ store owners offering their specialties. This ranges anything from ordering food, groceries, wine, medicines, wellness products, cosmetics, eCommerce, etc.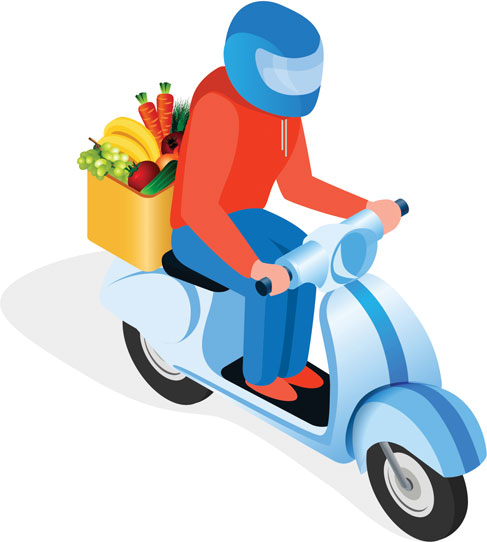 You place the order, get the payment done and the products are delivered right at your doorstep in a minimum of time – that is how on-demand delivery apps work. Additionally, some apps encourage service providers like beautician services, massage, house-keeping, babysitting, catering, photography, event planning, and so on.
Why People Are Loving On Demand Grocery Delivery Apps?
The most obvious reason for the grocery apps to become popular is because of the Pandemic. People during lockdown were unable to do step out for their daily essential needs. The on-demand delivery applications came to the rescue by getting their things delivered home.
We have gathered key reasons why consumers are loving it:
Contactless delivery
"Namaste" is the new handshake. Pandemic has disrupted lives globally, leaving a huge dent in the economy. All thanks to on demand apps that have changed how businesses used to conduct. The app comes featuring with "zero contact" delivery. The users opting for this feature can enjoy placing orders online and get them delivered at their doorstep.
Shop everything anything in a few clicks
Not just grocery but, there are other categories listed offering a variety of services providing zero contact delivery at your doorstep. The app comes featuring a wide range of grocery and daily essential products to choose from saving you from the hassles of downloading a different app for different things.
Choose from a wide range of variety
The grocery on-demand delivery app comes with a variety of products from different brands to choose from. This eliminates the consumer time. Also, it makes it super convenient for them to shop for everything from one place.
Single app multiple products
On demand grocery delivery app offer multiple categories of products and services. The app owner can choose to list as many categories to list depending on the consumer's demand. Thus, it gives you a fair view of which services are performing well and which aren't. Isn't it great? Want to try it out, contact a professional on-demand mobile app development company to get your detailed insights. 
Ease in paying
The app comes built-in with multiple payment options. This means, your consumer can choose whichever payment method they are comfortable with. With the multiple payment features, your consumers find it easy and quick to make the payment, making the entire shopping experience hassle-free. This means more and more consumers will be downloading your app and ultimately increase revenue even in these challenging times.
Transparent transactions
The reason a grocery app has become popular is that it offers complete transparency over the work it does. There are no hidden charges, fees, or such miscalculated transactions by the app. You are provided with detailed payment transactions.
Digital recognition
To share your business information on digital platforms like Twitter, LinkedIn, Instagram, and Facebook, etc. need something to highlight. E.g. sharing your product info, launching new product delivery, promotions and deals, and so on. This helps you build a loyal customer fan base with more apps downloading every day.
Every business today is now keen on developing an on-demand delivery service app, are you? Do you want to expand your business by creating an app that boosts your revenue in Covid19 times?
COVID-19 is not going anywhere soon hence businesses have to find something to survive and grow. Plan how do you want to launch your OnDemand delivery app model and convey the same with your mobile app development team.
Today businesses are trying all sorts of on-demand delivery apps like food ordering, grocery and eCommerce, healthcare and pharmacy apps, freelancing opportunities, beauticians, and more. It all depends on what kind of on demand delivery app service you want to create and launch.